Silk Route Retreat, Pedong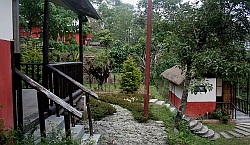 Pedong is a nature – lovers delight with its rivers, mountains, snow peaks, beautiful forests, birds, butterflies, all with a beautiful blend of a unique culture. You will have a wonderful opportunity to explore and learn a lot from this land where simplicity is the way of life.
Rustic & Real, that is our U.S.P and we follow it in our service and outlook. Ours is a property that is unsophisticated, simple & natural. As you enter the retreat, you are greeted by a warm reception which leads you below to a rustic restaurant with inside and outside seating which further leads you to well spread out cottages laid amidst natural surroundings. Our team comprises of young gentlemen and ladies, all of whom are local and a motivated lot, always there when you need them. For most, with the surrounding environment, the ambiance is that of a serene, natural and a tranquil one.
So, Yes! We are peaceful, serene, natural and tranquil like everyone else in the region BUT we also know how to entertain. Holidays are meant to be fun and entertaining! That is why our constant effort is to come up with innovative ideas to enrich your experience. After all, an experience is what you cherish the most. So, with that in mind, if your day is calm and beautiful with the sights and scenes of the eastern Himalayas, your evenings can be exotic, fun and thrilling with Campfires, Live Barbecues, Fire Breathers and Music & Dance.
Facilities
Our Cottages are individual structures with a room and bathroom and plenty of privacy.
Standard rooms are smaller and are within the main property area near to the restaurant.
All rooms come with bath/toilet and geysers for hot water.
All rooms come with basic power back-up.
Room service provided to all.
All of our rooms can be considered view rooms as we are not a typical building hotel.
Food is something that we keep very close to the heart.
Our In house BAR AND RESTUARANT serves a cuisine unique to itself.
We love experimenting with food and are always eager to come up with something new.
So there would be quite a few things in the menu which you would have never found in any other.
Other than food and drinks, we also serve flavored HOOKAHS at the Restaurant.
CAMPFIRES- Are provided to all on request.
BARBECUE- We have the most mouthwatering recipe for it. Provided on min 7hrs prior request.
DANCE FLOOR- Clear the restaurant a little and we have a dance floor with Good Sound, Low lighting and Virtual DJ to blast your socks off.
HOOKAHS – Flavored Hookahs at the Restaurant make for some chill time.
FIREBREATHER- Let us know if want some thrill and we shall blow some fire in front of you.
CAKES- If there's a birthday or an anniversary; a cake can be arranged on prior notification.
CANDLELIGHT DINNERS – We can arrange for the romantic as well.
All kinds of transport arrangements made from the hotel.
Pick up and Drop to the airport or station provided on prior notification.
Arrangement for local sightseeing.