Basistha Ashram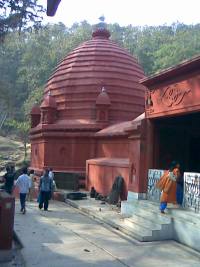 Basistha temple, located in the south-east corner of Guwahati city is a Shiva mandir constructed by Ahom King Rajeswar Singha in 1764 along with gift of land 835 Bighas for the ashram. The history of the Basistha Ashram where the temple is located dates back to the Vedic age. According to legend the ashram was founded by the great saint Basistha (Vasishtha).
Temple in the ashram stands on the bank of the mountain streams originating from the hills of Meghalaya, which becomes the rivers Basistha and Bahini/Bharalu flowing through the city.
This ashram is believed to be the home of famous sage Basistha, also known as "Vasishtha". The ashram is located a few kilometers (10-12) from Guwahati, on the outskirts of Garbhanga reserve forest which has an ample population of Elephants. This Garbhanga reserve forest is also a proposed Butterfly reserve. Although the ashram has a temple but still the cave in which the Muni Vasistha is believed to have meditated is located 5 K.m. inside the ashram. The ashram also has a waterfall.