Umananda Devaloi (Temple)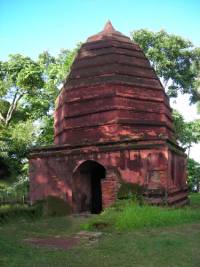 Umananda Devaloi (temple) is a Shiva Temple is located at the Peacock Island in middle of river Brahmaputra just opposite the office of the Deputy Commissioner of Kamrup or the Kachari Ghat in Guwahati. It was built by the Ahom King Gadadhar Singha (1681–1696) who was a devout Shaivaite. It is one of the major tourist destinations in Guwahati.
The temple is located on the Pea cock Island (as named by some poetic British Administrator) in the middle of the river Brahmaputra at Guwahati. It is known as smallest inhabited Riverine Island in the world. Country boats that are available on the bank of Brahmaputra take the visitors to the island. The mountain on which the temple has been built is known as Bhasmacala.
The temple of Umananda was built in 1694 A.D. by the Bar Phukan Garhganya Handique by the order of King Gadadhar Singh (1681–1696), one of the ablest and strongest rulers of the Ahom dynasty. The original temple was however immensely damaged by a devastating earthquake of 1897. Later, it was reconstructed by a rich local merchant who chose to inscribe the interior part of a Siva temple with Vaisnavite slogans.
How to Visit:
Tourists can access The Peacock Island from Guwahati and North Guwahati by ferries and steamers. One can hire a ferry from Sukleshwar ghat or Fancy Bazar Ghat. This is expensive but one can get the feel of the river and its surroundings without any interventions. This is most ideal for couples and family trips. However, a much convenient and cheaper transport has been provided by Inland Water Transport, which connects the Peacock Island to Guwahati from Uzanbazar Ferry Ghat.